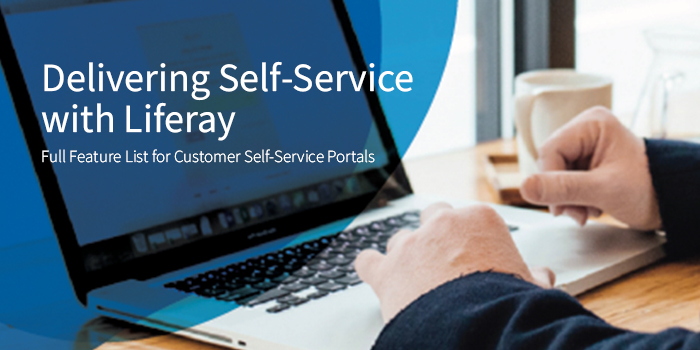 Introduction
By 2020, Gartner predicts that 85% of all customer service interactions will start with self-service and in fact, many businesses are expecting to implement self-service portals within the next year. However, many currently find these online customer portals difficult to use. While customers are eager for self-service, they want these features to be effortless and seamless.
In order to meet these expectations, companies must first invest in a digital-first customer service strategy and build digital solutions that will provide great customer service, starting with a modern self-service portal.
With over a decade of portal experience combined with the broad out-of-the-box functionality of our platform, Liferay supports businesses around the world to:
 Launch self-service sites that empower customers to resolve their issues unassisted.
 Reduce calls to customer support, decreasing cost-to-serve.
 Increase the adoption of a modern customer portal.
[/vc_column_text][/vc_column][/vc_row]
Key Benefits
Reduce Customers' Dependency on Assisted Channels
Reduce cost-to-serve with a modern self-service experience. Use Liferay's intuitive self-service capabilities such as knowledge management, intuitive search, and robust integration to reduce customers' dependency on live channels. Drive loyalty and reduce costs while empowering customers to find what they need without having to contact a customer service representative.
Turn a Customer Portal into an Engaging Communication Hub
With modern digital engagement tools such as audience segmentation, personalization, and site building, Marketing teams are able to create tailored experiences that match evolving customer expectations. Customers are not only able to post, respond to, share, and rate user-submitted content, but also provide feedback and send requests to the business.
Unify Existing Customer Service Touchpoints
Liferay enables businesses to integrate existing systems and services so that they can not only decrease the time it takes to unify common customer service processes, but also deliver a streamlined customer experience. Instead of requiring customers to jump between three different sites and applications to get something done, they are able to do everything on one site.
Connect and Manage Preferred Channels on One Platform
Liferay is an API-first platform, allowing businesses to add new channels as customers demand them. Distribute content across all channels while mangining it in a unified repository.
Securely Manage Customer Data and Portal Access
Ensure customer data is secure and handled properly with liferay's PaaS offering. Additionally, leverage built-in customer data management tools to help meet common guidelines for storing, exporting, and deleting data.
Using Liferay to Drive Self-Service
Knowledge Base
Empower customers to find the answers they need without a customer service rep.
Article Content Authoring
Create knowledge articles faster with easy content authoring. Knowledge teams can add rich media and styling to their articles, as well as tailored descriptions to use in card views across the site. Version histories and comparisons make it easy to review recent changes to articles and roll them back.

Liferay's knowledge base also supports content hierarchies and child articles to better organize articles across topics and categories.

Article Templates

 

Define templates for common article types to speed up the authoring process and ensure consistency.
Single Content Repository
Integrate any existing content repositories into Liferay so that knowledge teams can manage content from a single platform without having to recreate existing content.

 

Publishing Workflows
Incorporate publishing workflows and approval processes into articles, with metrics to show overdue tasks and completion velocity.

 

Localization
Translate articles or tailor them for specific regions. Once translated, Liferay automatically displays localized content based on a user's IP address.

 

Attachments
Upload attachments such as PDFs or images to knowledge base articles.

 

Subscribe
Allow users to opt in to notifications on updates or changes to articles.

 

User Feedback
Enable users to add suggestions for content improvement and rate the helpfulness of each article.

 

SEO
Ensure knowledge base articles show up in search engines by defining friendly URLs and metadata fields for each article. Liferay also supports common SEO configurations such as sitemap visibility and canonical URL settings.

 

Sharing
Enable users to share articles across social media channels. Liferay includes support for the most popular social media networks with the option to connect others as needed.

 

Search
Liferay DXP includes out-of-the-box integration with Elasticsearch, a powerful open source search engine. Tailor the results pages customers see for popular search terms and add support for synonyms or misspellings.

 

Liferay also supports faceted search so that customers can filter results by topics, tags, or content types. 

Additional Elasticsearch benefits and support are available through the Liferay Enterprise Search Subscription. Learn More
Reduce customer dependency on live channels. 
Experience Management

 
Liferay gives customer experience teams a full toolkit to evolve the digital customer service experience across the entire customer journey. 
Site Building

 

Design and update a self-service portal with low-code tools for page design. Non-technical teams can create layouts, landing pages, banners, and more without help from IT.

For more robust customization, Liferay has full theming and templating capabilities so the front-end developers can have full control of the portal's branding and experience.

Liferay also makes it easy to create customer dashboards. As existing services and applications are integrated into the platform, use Liferay's widget library or custom apps to design dashboards.

Segmentation

 

Create audience segments based on profile and behavioral data.

 

Personalization

 

Create personalized views for each audience segment, including localized or audience-specific images and content.

 

Content Recommendations

 

Create dynamic or pre-defined content feeds to share topical content across the portal. Automatically show content based on customers' interests and behavior on the portal.
Auto-Tagging

 

Auto-tag images or text-based web content to make it recognizable in search or content recommendations.

 

Segment and Device Previews

 

Preview what pages will look like on any device, with segmentation and personalization rules applied so that businesses have visibility into exactly what each customer will see when they log in.

 

Mobile Responsive

 

Reach customers on mobile with a responsive platform. Liferay DXP's CSS framework is designed to work with browsers on all devices.

 

Documents and Media Library

 

Store and manage images, videos, documents, and more within Liferay. Schedule content reviews and expirations, with versioning and reversioning features so customers always have accurate, current information.

 
User Management and Data Privacy

 
Securely manage customer data and give users access to their own information. 
Roles

 

Create custom roles for the internal teams that manage the portal. Together with permissions, roles are a powerful way to ensure that each user has the right access to creating, managing, and publishing content on the portal.

 

Permissions

 

Permissions are incredibly granular in Liferay. Site administrators have the ability to define what customers or user groups can view and access. Custom permissions can also be applied at a global level or to individual sites for portal managers, enabling further control.

 

Self-Service Account Management

 

Give customers the ability to edit and control their own accounts instantly without having to contact a representative. This includes editing personal information and setting notification preferences.

 

Data Protection
Liferay is committed to protecting customers' information. Review or erase user data to address data privacy concerns and meet regulations such as GDPR. Companies can erase a user's personal data and export a user's personal data in a machine-readable format upon request. For data erasure,
administrators can review content that potentially contains personal information and edit or delete as needed through a simple interface. Both tools include APIs for third-party apps to implement this feature or override the default behavior for out-of-the-box apps.
Forms

 
Build powerful forms to capture customer requests or feedback to help track changing customer needs. 
Forms

 

Design, publish, and manage forms with a simple-to-use drag and drop interface. Capture customer feedback with a powerful form builder to continuously improve experiences. Validate data entered, apply conditional rules, prepopulate fields, authenticate users, and more.

 

Form Rules

 

Predefined form rules include required fields, autofill selects, show and hide, jump to a page, calculations, conditional success pages, and an API to create and execute new customized rules for form needs.

 

Additionally, create personalized forms with conditional rules that allow for dynamic behavior in forms and tailor the questions or fields to be shown or required based on user responses. 

Form Performance Analytics

 

Analyze form abandonment with metrics behind views, submissions, abandoned fields, and completion time.

 

Service Applications and Enrollment

 

Forms can also be used to build easy application or enrollment experiences for existing services.

 

Workflows

 

Support application or enrollment experiences with dedicated workflows, such as requiring approval before giving a customer access to a service.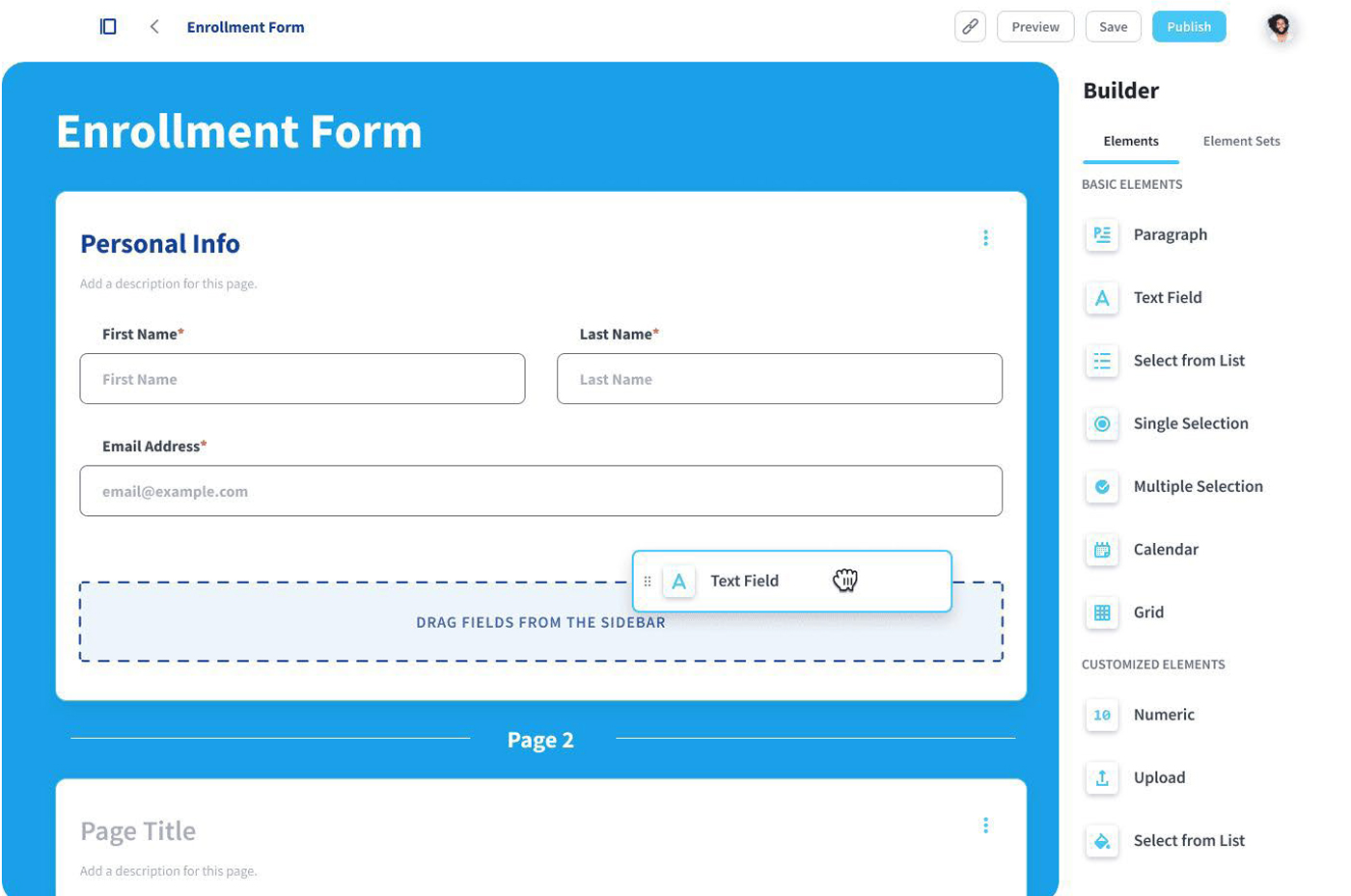 Design enrollment forms and sign up experiences without using code. 
Communities

 
Foster communities so customers can answer each others' questions. 
Forums and Message Boards

 

Build communities with message boards and forums so customers can benefit from common questions and feedback. Allow customers to post, respond to, share, and rate user-posted content.

 

User Management

 

Administrate communities with the ability to ban accounts and set detailed permissions for different types of users.

 

Statistics

 

View common community statistics such as number of posts per user.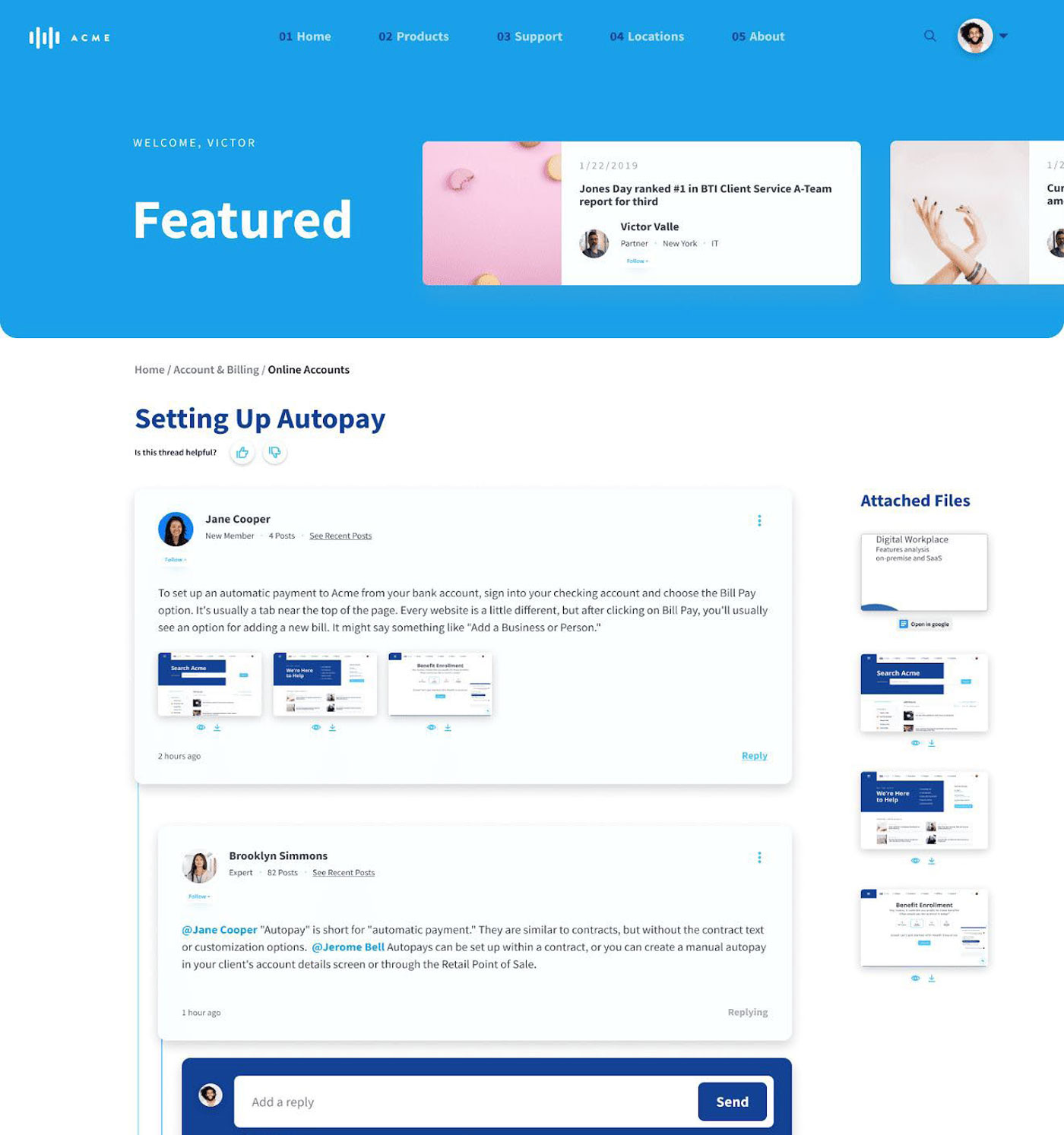 Design enrollment forms and sign up experiences without using code. 
Integrations
Decrease the time it takes to integrate existing systems and unify common service processes with Liferay's integration tools built on open standards. 
Integration Framework

 

Liferay enables the integration of back-end systems and data without having to create custom integrations from scratch. It supports integration with SOAP, REST, RSS, and proprietary APIs.

 

Headless

 

Connect customers' preferred channels or distribute content to new device types by leveraging Liferay's Headless CMS, based on the OpenAPI standard.

 

Single Sign On and Authentication

 

Unite all the sites customers use under one login and password. Liferay supports these Identity Providers and more: Single Sign On (SSO) servers, SAML, LDAP, Facebook, Google, OpenId, Open Authorization (OAuth), and Shibboleth.

 
Analytics and Optimization

 
Measure self-service adoption and find areas for improvement with an integrated analytics solution. 
A/B Testing

 

Create tests to evaluate which page elements or content perform better for business goals.

 

Segment Analytics

 

Analyze interests, activity history, and demographics per audience segment.

 

ABM Support

 

Support B2B marketing strategies with account profiles and ABM data.

 

Page Analytics

 

Measure page performance by user sessions, number of visitors, bounce rate metrics, and associated topic of interest per page.

 

Audience Behavior

 

Analyze audience behavior patterns by day and time.

 

Path Analytics

 

Visualize user journeys through the portal by identifying previous and next pages.

 

Traffic Sources

 

Identify traffic types and sources, including user location, device type, and browser.

 

Asset Analytics

 

Measure engagement levels for blogs, documents, media, and other web content.

 

Search Analytics

 

View top searches and page visits across the portal.

 

Other Analytics Integrations

 

Liferay provides fields to easily add a Google Analytics ID or Matomo (formerly Piwik) script in order to leverage these tools. Other third-party analytics or BI tools can also be easily integrated to work alongside Liferay.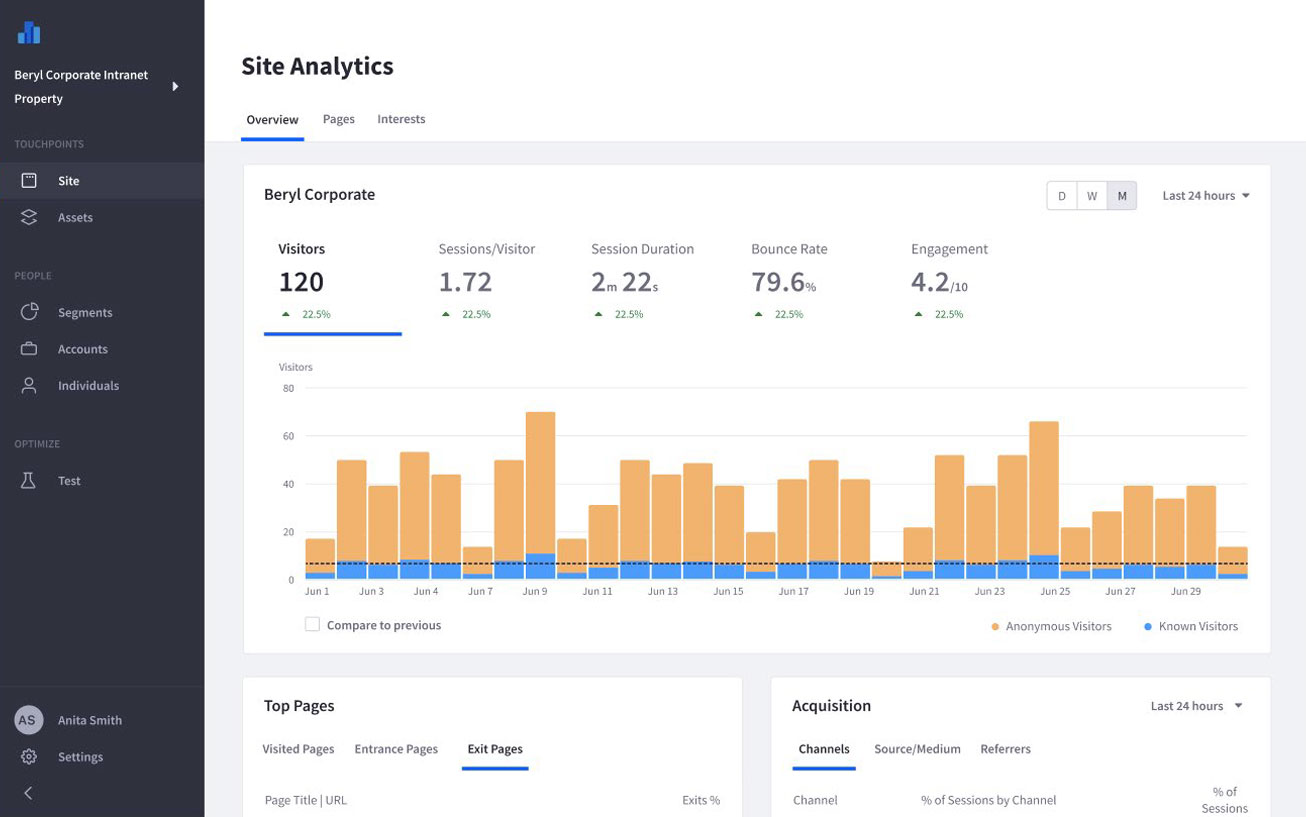 Gain in-depth insight into customers and their activities.
PaaS
Build solutions on a platform that enables a faster go-to-market. Generate value sooner and drive innovation with everything DevOps needs, from infrastructure to environments. 
Deployment

 

Accelerate time-to-market with services and infrastructure supported in the cloud by Liferay.

 

Robust CI/CD Pipeline

 

Integrated builds, testing, and deployments allow developers to focus on what they do best.

 

SDLC

 

Deliver new features following well-defined SDLC procedures.
Moving Forward
Request a Customized Demo

 
Talk to Liferay's Sales team for a customized self-service portal demo and an opportunity to ask questions about how Liferay can solve unique business challenges. 
CONTACT US